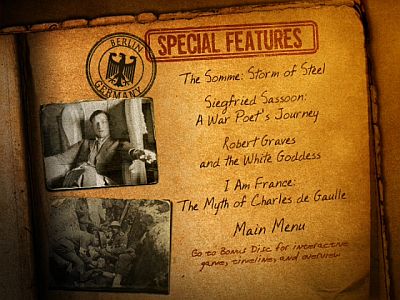 Below you will find information about each documentary that supplements Trenches of Hell. Lesson plans are also available for these excellent documentaries.
---



Begun in July of 1916, the devastating Battle of the Somme was a turning point in warfare, demarking the modern combat arena in horrific carnage. Unseasoned and poorly trained British soldiers vastly overestimated the tenacity of German forces. Despite a solid week of bombardment where over a million artillery shells rained down upon German fortifications, they stood ready for the British advance. More British soldiers died on the first day of the Battle of the Somme than any other day in the history of British warfare. As the battle slogged on, troops effectively fought within an open graveyard, as there was no time to bury the multitude of the dead. As attrition wound down the 141-day conflict, almost 420,000 British soldiers lay dead, along with 200,000 French, and nearly half-a-million Germans, and all for a questionable purpose. Produced and Written by Adam Sternberg.

Running Time: (0:26:48)




Lesson Plans:

Coming Soon!


---




He was a soldier's soldier, decorated for bravery by the British government and respected by the men in his battalion. But war had taken its toll on Siegfried Sassoon, and he felt a deep resentment against his country's military campaign. Sassoon returned from the trenches of hell in World War I to fight another battle in the halls of government back home. His resentment took the form of poetry: searing indictments that ran counter to popular opinion. This is the story of how one man's poetry and his protest against World War I shined a light of truth on the subject of war forever framed that conflict in the memory of his country. Produced and Written by David O'Dell.

Running Time: (0:30:09)




Lesson Plans:

Coming Soon!


---




Writer Robert Graves took many unpredictable turns on his fascinating journey through life. Though Graves would describe himself first and foremost as a poet, he was a man of enormous literary talent who wrote more than 150 books. He was eccentric, brilliant, and visionary and his vivid imagination was fueled by a volatile mixture of emotional highs and catastrophic lows. His most memorable works emerged when the world around him was falling apart. At the peak of his writing career, Graves attempted to unravel the mystery of his creative process. That effort took him on a journey across time and culture through which he envisioned a mythical female muse that he called the White Goddess. Produced and Written by David O'Dell and Betsy Bayha.

Running Time: (0:30:18)




Lesson Plans:

Coming Soon!


---




In France's darkest hours of World War II, a lone French voice emanated from BBC radio in an attempt to rally free French forces to resist the power of invading Germany. Recognizing his value as an ally, Winston Churchill acknowledged de Gaulle as the French leader despite the fact that a national government still existed in France. As he was forced to the sidelines of Allied Command decisions, de Gaulle led military campaigns defending France's colonies, building his reputation. Despite this, he was excluded from Normandy operations. He nonetheless accompanied US forces with great theatricality as they arrived in Paris, and was soon elected head of the French government. Years after his retirement, the French people turned to de Gaulle for guidance during the Algerian crisis, but his mythic position as the face of France would end during the social upheaval of the 1960s. Produced and Written by Karena O'Riordan.

Running Time: (0:30:08)




Lesson Plans:

Coming Soon!


---
The above descriptors were acquired from Starwars.com
Disclaimer: All resources (including books and websites) provided on indyintheclassroom.com are intended to be used by educators. Indyintheclassroom.com is not responsible for the content on linked websites.
Educators are strongly advised to review any resources prior to allowing student use.
Copyright: All images on Indyintheclassroom.com are used with permission or are in the public domain. Exceptions are noted. For additional information see our Copyright section.