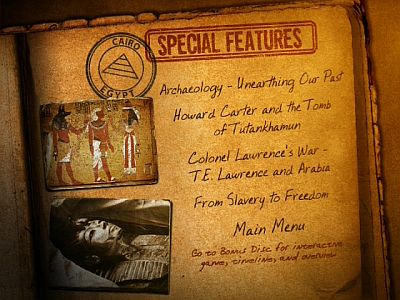 Below you will find information about each documentary that supplements My First Adventure. Lesson plans are also available for these excellent documentaries.
---
Archaeology: Unearthing Our Past




Man's history on Earth dates back at least tens of thousands of years, yet written records stretch back to only a fraction of that. Helping clarify the picture of humanity past is the science of archaeology. Though the cinematic escapades of Indiana Jones describe a world of globe-trotting adventure, in truth archaeologists are more like detectives, piecing together clues to mysteries of what has come before. Produced and written by Adam Sternberg..

Running Time: (0:19:17)




Lesson Plans:

Coming Soon!


---

Howard Carter and the Tomb of Tutankhamun




Howard Carter's unflagging persistence and stubbornness led to one of the greatest archaeological discoveries of the 20th century: the tomb of King Tut. Yet it was that same strong-headedness that would time and again jeopardize Carter's career. Learn more about the man and his discovery which propelled Egyptology into the pop culture landscape. Produced and written by Adam Sternberg..

Running Time: (0:22:34)




Lesson Plans:

Coming Soon!


---

Colonel Lawrence's War: T.E. Lawrence and Arabia




He was an action hero as well as an intellectual hero. T.E. Lawrence escaped a safe office job during World War I to become a guerilla war mastermind in desert combat, fighting alongside Arabs to throw off the rule of the Ottoman Empire. But despite British promises of Arab independence, the Middle East would end up being carved by European colonial treaties, and Lawrence faced the challenges of keeping his word to his trusted compatriots of the desert. Produced and written by Sharon Wood..

Running Time: (0:36:05)




Lesson Plans:

Coming Soon!


---

From Slavery to Freedom




Humanity has lived in, with and on the profits of slavery for most of its history. Many of its greatest achievements and monuments have tragically been built on the backs of slave labor. How could people place their economic needs ahead of the humanity of their fellow beings? How could this horrific system have lasted for so long? In this documentary track the history of slavery from Ancient Greece, to the Crusades, to the colonization of the new world and the racial slavery that sparked the American Civil War. The journey from slavery to freedom is incomplete and continues as there are still over 20 million people enslaved today. Produced and written by Mark Page. .

Running Time: (0:30:08)




Lesson Plans:

Coming Soon!


---
The above descriptors were acquired from Starwars.com
Disclaimer: All resources (including books and websites) provided on indyintheclassroom.com are intended to be used by educators. Indyintheclassroom.com is not responsible for the content on linked websites.
Educators are strongly advised to review any resources prior to allowing student use.
Copyright: All images on Indyintheclassroom.com are used with permission or are in the public domain. Exceptions are noted. For additional information see our Copyright section.