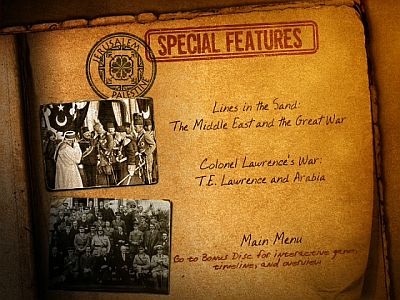 Below you will find information about each documentary that supplements Daredevils of the Desert. Lesson plans are also available for these excellent documentaries.
---



The Ottoman Empire once spanned three continents, stretching from Budapest to Basra to Algiers. Founded around 1300 , it created a rich, multi-ethnic world that was Islamic in faith and tolerant in practice. But by the early 20th century, the Empire was under attack from without and challenged from within. When World War broke out in 1914, the Ottomans had to choose sides. They cast their lot with Germany and Austria, and against Britain, France, and Russia. That decision would lead to the Empire's final destruction -- and the creation of the modern Middle East. Produced and written by Sharon Wood.

Running Time: (0:34:29)




Lesson Plans:

Coming Soon!


---

Colonel Lawrence's War: T.E. Lawrence and Arabia




He was an action hero as well as an intellectual hero. T.E. Lawrence escaped a safe office job during World War I to become a guerilla war mastermind in desert combat, fighting alongside Arabs to throw off the rule of the Ottoman Empire. But despite British promises of Arab independence, the Middle East would end up being carved by European colonial treaties, and Lawrence faced the challenges of keeping his word to his trusted compatriots of the desert. Produced and written by Sharon Wood..

Running Time: (0:36:05)




Lesson Plans:

Coming Soon!


---
The above descriptors were acquired from Starwars.com
Disclaimer: All resources (including books and websites) provided on indyintheclassroom.com are intended to be used by educators. Indyintheclassroom.com is not responsible for the content on linked websites.
Educators are strongly advised to review any resources prior to allowing student use.
Copyright: All images on Indyintheclassroom.com are used with permission or are in the public domain. Exceptions are noted. For additional information see our Copyright section.