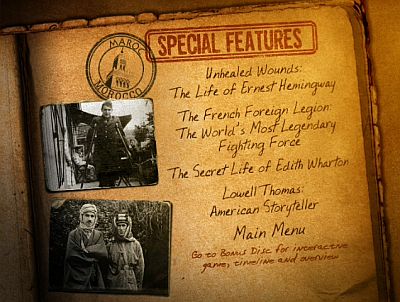 Below you will find information about each documentary that supplements Tales of Innocence. Lesson plans are also available for these excellent documentaries.
---



Ernest Hemingway was the best-selling, most celebrated author of his time. He wove war, love, pain and death into unforgettable patchworks of prose, and sought adventure and craved risk. Behind a cheerful façade were wounds much deeper than any physical ones sustained in an eventful lifetime. Hemingway battled devastating personal wounds he found impossible to shake. Produced and Written by Karena O'Riordan.

Running Time: (0:34:55)




Lesson Plans:

Coming Soon!


---




For almost two hundred years one group of fighting men has held an unrivaled grip on the world's imagination. Shadowy pasts have made them outcasts. Glorious victories have made them heroes. And bitter defeats -- often in hopeless battles to the death -- have transformed them into legends. They are the men of the French Foreign Legion. Today, the mystique that surrounds these unusual soldiers still fascinates, still draws young men to enlist in their ranks. Produced by Mark Page and Jennifer Petrucelli. Written by Mark Page.

Running Time: (0:28:22)




Lesson Plans:

Coming Soon!


---




In 1905, all of New York was riveted by the story of Lily Bart, a stunning young woman hoping to claim her place in society through marriage to a wealthy man. As her prospects for marriage unraveled, Lily's life spiraled downward. No longer the toast of New York society, she ended up in a rooming house, alone and penniless. After drinking an overdose of sleeping medication, she died. This tragic figure whose story so captivated New York was not real. She was a character in the novel The House of Mirth. The writer who exposed the dark side of High Society was herself a member of it; Edith Wharton was in a unique position to chronicle -- and critique the upper class. She did -- mercilessly -- and her literary success came at a price. Produced and Written by Betsy Bayha.

Running Time: (0:30:35)




Lesson Plans:

Coming Soon!


---




Over the course of his illustrious career, Lowell Thomas was an adventurer, a showman, the most familiar voice in radio, a television personality and a media pioneer. He was one of the first to be called a newscaster, but through it all, one thing always was true about Lowell Thomas: he was a supreme storyteller. Produced and Written by David O'Dell.

Running Time: (0:29:17)




Lesson Plans:

Coming Soon!


---
The above descriptors were acquired from Starwars.com
Disclaimer: All resources (including books and websites) provided on indyintheclassroom.com are intended to be used by educators. Indyintheclassroom.com is not responsible for the content on linked websites.
Educators are strongly advised to review any resources prior to allowing student use.
Copyright: All images on Indyintheclassroom.com are used with permission or are in the public domain. Exceptions are noted. For additional information see our Copyright section.