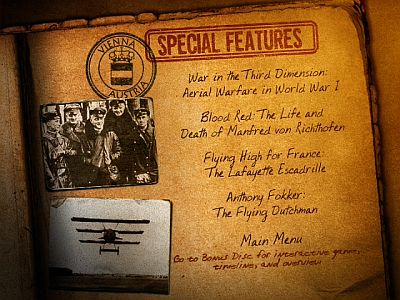 Below you will find information about each documentary that supplements Attack of the Hawkmen. Lesson plans are also available for these excellent documentaries.
---



When World War I began, the rival armies charged into battle with frightening new weapons that seemed ready to change the very nature of war. One promising new piece of military hardware -- the airplane -- wasn't quite ready to hit its mark. That didn't stop a few passionate advocates from making big plans for airplanes, or from dreaming up ways to use them in war. By the end of the war these visionaries would transform the flimsy airplanes of 1914 into powerful and dependable weapons, and take war where it had rarely gone before: beyond the two dimensional realm of our planet's surface, into the third dimension of the air above. Produced by Mark Page and Jennifer Petrucelli. Written by Mark Page.

Running Time: (0:27:34)




Lesson Plans:

Coming Soon!


---




Today, historians and aviation buffs still celebrate the Red Baron as the ideal fighter pilot. A daring knight of the sky who helped write the book on aerial combat during the world's first air war. For the man behind the myth, however, the real story is a tale of disillusionment; a blood red saga in which ancient ideals of chivalry, honor and duty came crashing down in the fires of modern war. Produced and written by Mark Page and Jennifer Petrucell. Written by Mark Page.

Running Time: (0:27:43)




Lesson Plans:

Coming Soon!


---




In a war that claimed millions of lives, most who served in the military fought because they had no choice. But the high flying men of the Lafayette Escadrille were different: they didn't have to be there. They were American adventurers who volunteered for World War One long before their country joined. They were lawyers, authors, heirs to banking and railroad fortunes, Ivy League graduates, friends of royalty, sons of privilege. All they wanted was a chance to fly. The young pilots came to the war with romantic ideas of adventure and heroism. They had no idea what they were in for. Produced and written by Karena O'Riordan.

Running Time: (0:26:13)




Lesson Plans:

Coming Soon!


---




On November 11, 1918, the Germans laid down their arms, finally ending World War I. In the surrender agreement, the Allies listed the numbers of cannons, machine guns and other weapons that Germany had to turn over. Yet of 1,700 airplanes demanded, only one type was so feared that it was mentioned by name: the D-7. The deadly machine was the masterwork of a 28 year-old Dutchman who had become Germany's most skilled -- and unconventional -- plane maker: Anthony Fokker. Produced and written by Mike Welt.

Running Time: (0:27:31)




Lesson Plans:

Coming Soon!


---
The above descriptors were acquired from Starwars.com
Disclaimer: All resources (including books and websites) provided on indyintheclassroom.com are intended to be used by educators. Indyintheclassroom.com is not responsible for the content on linked websites.
Educators are strongly advised to review any resources prior to allowing student use.
Copyright: All images on Indyintheclassroom.com are used with permission or are in the public domain. Exceptions are noted. For additional information see our Copyright section.