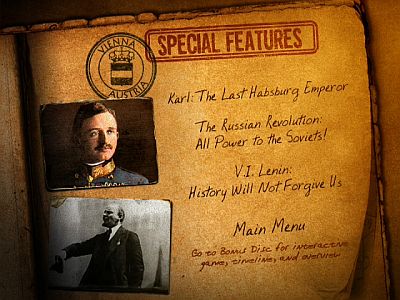 Below you will find information about each documentary that supplements Adventures in the Secret Service. Lesson plans are also available for these excellent documentaries.
---



Karl, the last Emperor of Austria and King of Hungary, was labeled a traitor and failure during his lifetime. His own people exiled him. Still, there has been recognition that perhaps Karl's short reign should be remembered less for his failures than for his unsuccessful yet sincere attempts to transform his empire and bring an end to World War I. Produced and Written by Adam Sternberg.

Running Time: (0:29:49)




Lesson Plans:

Coming Soon!


---




In 1991, the Soviet Union, one of the most powerful nations on Earth, collapsed. Born in socialist revolution almost three-quarters of a century earlier, its birth in 1917 sent shockwaves around the world. Right from the start, the Russian Revolution promised a better world of equality, dignity, and social justice. What happened to those promises? Produced and Written by Sharon Wood.

Running Time: (0:33:35)




Lesson Plans:

Coming Soon!


---




To create the utopian world he envisioned, Lenin did what he thought he had to. His violent seizure of power -- and the harsh measures he took to hold onto it -- inspired generations of revolutionaries, and dictators. Brilliant and driven, Lenin wanted to change history. He did, but not in the way he expected. Produced and Written by Sharon Wood.

Running Time: (0:33:54)




Lesson Plans:

Coming Soon!


---
The above descriptors were acquired from Starwars.com
Disclaimer: All resources (including books and websites) provided on indyintheclassroom.com are intended to be used by educators. Indyintheclassroom.com is not responsible for the content on linked websites.
Educators are strongly advised to review any resources prior to allowing student use.
Copyright: All images on Indyintheclassroom.com are used with permission or are in the public domain. Exceptions are noted. For additional information see our Copyright section.