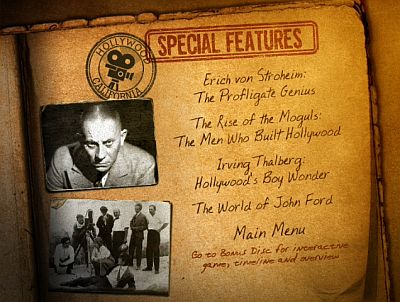 Below you will find information about each documentary that supplements The Hollywood Follies. Lesson plans are also available for these excellent documentaries.
---



He was unmistakable. With his suave demeanor, impeccable wardrobe and bullet head, on screen Erich Von Stroheim played sadistic and sometimes seductive Prussians. As a director, von Stroheim earned a reputation for unparalleled egomania, arrogance and self indulgence. Though he was fired by nearly every studio he worked for and most of his films he directed were finished by others, or destroyed, what remains offers a glimpse of one of Hollywood's pioneers, one whom everyone loved to hate. Produced by Adam Sternberg.

Running Time: (0:32:52)




Lesson Plans:

Coming Soon!


---




To the outside world Hollywood seemed like a magic place. Here, the sun was always shining, everyone had a swimming pool, and glamorous people earned enormous salaries working in factories called movie studios. Every year millions of fans bought tickets to see the studios' latest releases, but no one traveled farther to get here, or worked harder to get to the top, than the men who built the studios and ruled them like feudal overlords. Men who started out with nothing, and transformed themselves into Hollywood's movie Moguls. Produced by Mark Page and Jennifer Petrucelli.

Running Time: (0:25:40)




Lesson Plans:

Coming Soon!


---




Named for one of Hollywood's most legendary filmmakers, the Thalberg Award is given to "creative producers personally responsible for a consistently high quality of motion picture production." A standard of quality set during Hollywood's golden age, by Irving G. Thalberg himself. Produced by Mark Page and Jennifer Petrucelli.

Running Time: (0:32:30)




Lesson Plans:

Coming Soon!


---




People called it the Dust Bowl, an environmental disaster that struck the Great Plains in the late 1930s, when the country was already reeling under the Depression. John Steinbeck's best-selling novel, The Grapes of Wrath, profiled some of the hardest hit: tenant farmers forced off their land and into migrant labor far from home. When the movie version was announced, people worried that Hollywood would ruin it. They didn't need to. It was directed by John Ford. Produced and Written by Sharon Wood.

Running Time: (0:33:18)




Lesson Plans:

Coming Soon!


---
The above descriptors were acquired from Starwars.com
Disclaimer: All resources (including books and websites) provided on indyintheclassroom.com are intended to be used by educators. Indyintheclassroom.com is not responsible for the content on linked websites.
Educators are strongly advised to review any resources prior to allowing student use.
Copyright: All images on Indyintheclassroom.com are used with permission or are in the public domain. Exceptions are noted. For additional information see our Copyright section.