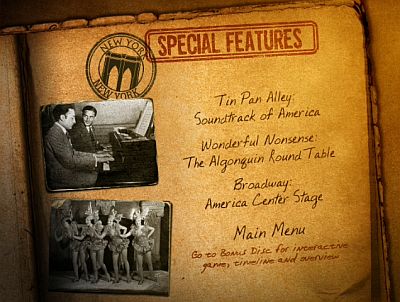 Below you will find information about each documentary that supplements The Scandal of 1920. Lesson plans are also available for these excellent documentaries.
---



Perhaps no artistic medium has acted as a more accurate cultural barometer than the popular song -- charting the nation's passions and pastimes with color and immediacy. In the early 20th century, Americans reveled in new found comfort, convenience and prosperity. A group of creative businessmen on Tin Pan Alley celebrated their arrival in song. Produced and Written by Adam Sternberg.

Running Time: (0:31:15)




Lesson Plans:

Coming Soon!


---




"All the things I really like to do are either immoral, illegal or fattening." / "That woman speaks 18 languages and can't say no in any of them." / "Why don't you get out of that wet coat and into a dry martini?" / "Anything can happen, but it usually doesn't." / "Beauty is only skin deep, but ugly goes clean to the bone." -- New York City. 1920. The First World War was over. Flush with victory and dreams of riches, America was ready for something new. Manhattan was the place to be. New Yorkers were feeling confident and sassy. The connoisseurs of the new culture could be found at a daily lunch at a circular table inside a hotel called the Algonquin. They became known as the Algonquin Round Table. Produced and Written by Karena O'Riordan.

Running Time: (0:26:00)




Lesson Plans:

Coming Soon!


---




The year was 1927, and the New York theater district called 'Broadway' was entering what would be its greatest season in history. More than 264 shows were going to open that year -- and as many as 11 would open on a single night. Every new production was an overflowing of talent that was expressly American. In the years following World War I, America's identity came into sharp focus, and it did so on the Broadway stage. Produced and Written by David O'Dell.

Running Time: (0:29:58)




Lesson Plans:

Coming Soon!


---
The above descriptors were acquired from Starwars.com
Disclaimer: All resources (including books and websites) provided on indyintheclassroom.com are intended to be used by educators. Indyintheclassroom.com is not responsible for the content on linked websites.
Educators are strongly advised to review any resources prior to allowing student use.
Copyright: All images on Indyintheclassroom.com are used with permission or are in the public domain. Exceptions are noted. For additional information see our Copyright section.